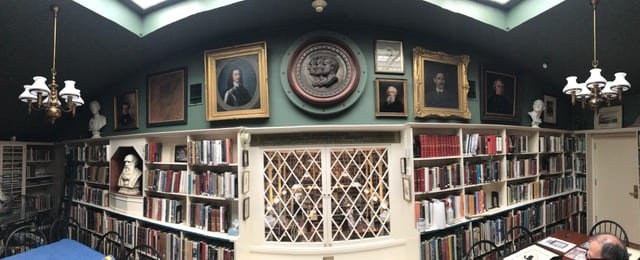 Artpack's Design and Display Department worked closely with Providence Athenaeum and Art History Professor Tripp Evans to create a mount for the bronze medallion "Triumviri Americani" ("American Triumvirate") in the newly refurbished Art Room at the Library. Acquired by the Athenaeum's founding members 151 years ago, this is the first time the medallion has been exhibited since 1926.
The Providence Athenaeum, established in 1836 as a private lending library, has a long and vital history with the cultural life of the city of Providence. The Art Room, which began its life sixty years later, became the primary public art gallery in the city.
In 1870, Philadelphia sculptor William Miller created the Triumviri Americani to celebrate the commencement of Ulysses S. Grant's presidency. It consists of portraits of   George Washington Abraham Lincoln, and Grant himself.. The Latin inscription at the bottom reads "Pater 1789 / Salvator 1861 / Custos 1869" [Father 1789 / Savior 1861 / Custodian 1869]
The challenge presented to our Design and Display Department was to install the medallion over an off-center cold air vent located above a seating area. Our team constructed a disc plate to frame the medallion, with a ring of bronze stars emulating those found in the bronze casting. A metal bracket was attached to the wall to allow the flow of air through the duct and to center the medallion over the window for optimum viewing.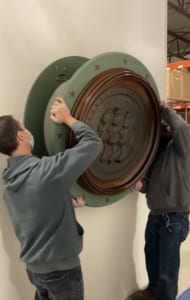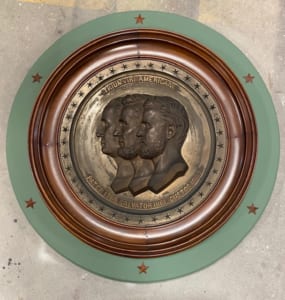 https://www.artpack.com/wp-content/uploads/2021/06/90837F7B-01FF-402B-80C6-BB1E2A7B3073.jpeg
260
640
Anna W
https://artpack.com/wp-content/uploads/2019/05/artpack_logo_classic-300x212.png
Anna W
2021-06-24 19:01:43
2021-06-24 19:01:43
"An Artful Perch"